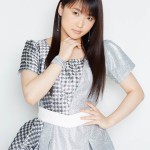 Sayashi Riho announced her graduation from Morning Musume '15.
She will leave the idol group on December 31 after a last live performance at Hello!Project Countdown Party 2015 ~ Good Bye & Hello ! ~ at Nakano Sun Plaza.
Sayashi Riho posted an article on the 9th generation members' blog. She explained that she wants to study abroad in order to learn English and dance.
However, she will still be a member of Hello! Project. She may be back once she has finished her studies.
Sayashi Riho joined Morning Musume in January 2011. She is 17 years old.