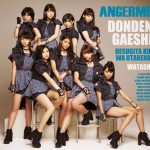 The new of single of Angerme Desugita Kui wa Utarenai / Dondengaeshi / Watashi (出すぎた杭は打たれない/ドンデンガエシ/わたし) will be released on next November 11.
This is the 20th single of Angerme, previously known as S/mileage.
It contains a triple A-side.
The MV has been unveiled.
The single is the last one of the idol group with the 1st Generation member Fukuda Kanon after the announcement of her graduation few mounths ago. She appears alone on covers of the regular and limited editions.
It was released in limited CD+DVD A, B, C, and regular CD Only A, B, and C editions. The limited editions will come with an event lottery serial number card enclosed. A special box set will be also released, including all versions of the single and a chance to attend one of four types of events.
Furthermore, the auditions to recruit new members to be part of the 4th generation of the idol group began in June.
Tracklist
Desugita Kui wa Utarenai (出すぎた杭は打たれない)
Dondengaeshi (ドンデンガエシ)
Watashi (わたし)
Desugita Kui wa Utarenai (Instrumental)
Dondengaeshi (Instrumental)
Watashi (Instrumental)
Desugita Kui wa Utarenai (Music Video)
Dondengaeshi (Music Video)
Watashi (Music Video)
Music Video (PV)