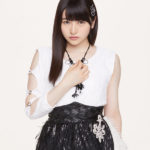 Ogata Haruna announced on March 27 her future graduation from Morning Musume '18 and Hello! Project
According to her, she decided to leave the group to devote herself entirely to her university studies. She commented that she feels unable to pursue her dreams of attending university in parallel with her idol activities, so she decided to graduate from the group.
Ogata Haruna says she did not pass her initial entrance exams, but plans to attend a two-year college program starting in April. At the end of this program, she hopes to be transferred to a university and study for 4 years.
Her graduation is scheduled for June 20 after a performance at Nippon Budokan at the end of the Morning Musume '18 Spring Concert Tour.
Ogata Haruna is 19 years old ; she is a member of the 12th generation Morning Musume and effectively integrated the idol group in January 2015.
Her choice to leave the group is surely a wise decision and we wish her every success in her professional career and her future projects.