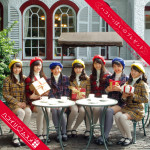 The new single of Hakoiri Musume Hako Ippai no Present (ハコいっぱいのプレゼント) will be released on November 22.
This will be the first disc of the idol group with a distribution nationwide. It will be released under the new label Penguin Disc, a new sub-label created by Tower Records Japan.
Hako Ippai no Present is mainly a friendship song and also gives a foretaste of Christmas' spirit.
In the MV, the girls cannot tell their feelings to people they love; they put them into the present for their beloved.
Hakoiri Musume are dressed in delightful cozy-looking blazers, turtleneck sweaters, and knee high socks, recalling the European clothing styles of the early last century.
The single will be available in three editions (A, B and C). The titles are different depending on the edition.
The main song Hako Ippai no Present was written by Kazuya Nishioka. He composed the music Unbalance na Summer.
Kodama Ameko was responsible to write the lyrics of Otome wa Bikkuri Hako and Unbalance na Summer.
The song Let's Party Time! was written and composed by James Panda Jr. He also busy composing the musk of Otome wa Bikkuri Hako.
Tracklist
CD

Hako Ippai no Present (ハコいっぱいのプレゼント)
Otome wa Bikkuri Hako (乙女はびっくり箱)
Hako Ippai no Present (Instrumental)
Otome wa Bikkuri Hako (Instrumental)
Type B

Hako Ippai no Present (ハコいっぱいのプレゼント)
Unbalance na Summer (アンバランスなサマー)
Hako Ippai no Present (Instrumental)
Unbalance na Summer (Instrumental)
Type C

Hako Ippai no Present (ハコいっぱいのプレゼント)
Let's Party Time!
Hako Ippai no Present (Instrumental)
Let's Party Time! (Instrumental)
Music Video (PV)