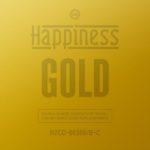 The new single of Happiness entitled GOLD was released on September 20.
This is 11th single of the girl group.
This is the 1st release for Happiness since the « E.G. Family » announcement in last June, when MIYUU et Kawamoto Ruri graduated from E-girls to focus on Happiness exclusively.
Watch the MV for the main song GOLD below.
The single is sold in several editions.
The CD contains 4 new songs and their instrumental versions.
Tracklist
CD

GOLD
Next Level
I'm so Wow
JUMP
GOLD (Instrumental)
Next Level (Instrumental)
I'm so Wow (Instrumental)
JUMP (Instrumental)
DVD 2

Happiness LIVE TOUR 2016 GIRLZ N'EFFECT THE FINAL
Music Video (PV)