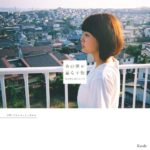 Kaede's new single was released on September 17th.
It is entitled Ano Musume ga Kurasu Machi (Made Ato Dorekurai?) (あの娘が暮らす街(まであとどれくらい?)).
This is Kaede's first single, a member of the idol group Negicco. After the release of the first single of Megu, it is the turn of Kaede to release her own single.
One edition is on sale. The single is also available in digital format.
The main song was written and composed by Sawabe Wataru.
The B-side track Sore mo Kitto Shiawase was written Horigome Takaki and composed by Horigome Yasuyuki.
Tracklist
CD

Ano Musume ga Kurasu Machi (Made Ato Dorekurai?) (あの娘が暮らす街(まであとどれくらい?))
Sore mo Kitto Shiawase (それもきっとしあわせ)
Ano Musume ga Kurasu Machi (Made Ato Dorekurai?) (Instrumental)
Sore mo Kitto Shiawase (Instrumental)
Music Video (PV)