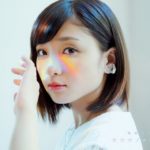 After the solo debut of Sasaki Ayaka, from Momoiro Clover Z, it's the turn of Ariyasu Momoka to start a solo career.
The member of Momoclo will release her first album on October 11th.
The title of Ariyasu Momoka's album will be Kokoro no Oto (ココロノオト).
It will be available in three editions: one normal (CD), and two limited A (CD+Blu-ray) and B (2CD).
The CD will have a total of 14 songs.
The second CD of the limited edition B will contain the video of the solo concert of Momoka held last July.
The Blu-ray will feature 3 music videos from the album and the making of one of them.
Tracklist
CD

Kokoro no Senritsu (心の旋律)
Catch up
Hamster (ハムスター)
Pedal (ペダル)
feel a heartbeat
Another story
Drive Drive
Hadaka (裸)
Aisaretakute (愛されたくて)
Touboe (遠吠え)
Chisana Yuki (小さな勇気)
TRAVEL FANTASISTA
Iro Enpitsu (色えんぴつ)
Hikari no Koe (ヒカリの声)
Limited edition B CD2

Kokoro no Senritu ~Feel a heartbeat~ Vol.1 LIVE ALBUM 2017.7.20
Limited edition A Blu-ray

Hikari no Koe (Music Video)
Iro Enpitu (Music Video)
Catch Up (Music Video
Hikari no Koe (Making Of Music Video)
Music Video (PV)