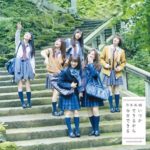 The new single of Nogizaka46 will be released on October 11th.
It's entitled Itsuka Dekiru Kara Kyou Dekiru (いつかできるから今日できる)  and this is the 19th single of the idol group Nogizaka46.
The selected members (senbatsu) for this single are: Akimoto Manatsu, Ikuta Erika, Ikoma Rina, Ito Marika, Inoue Sayuri, Eto Misa, Saito Asuka, Saito Yuuri, Sakurai Reika, Shiraishi Mai, Takayama Kazumi, Nakada Kana, Nishino Nanase, Hoshino Minami, Matsumura Sayuri, Wakatsuki Yumi, Kitano Hinako, Shinuchi Mai and Hori Miona.
The center position is held by Nishino Nanase and Saito Asuka.
Several editions will be available.
The song Boku no Shoudou is performed by the 3rd generation members of Nogizaka46.
Tracklist
Regular Edition

CD

Itsuka Dekiru Kara Kyou Dekiru (いつかできるから今日できる)
Fuminshou (不眠症)
Atarashii Kafun ~from Musical "Mishiranu Sekai"~ (新しい花粉 ~ミュージカル「見知らぬ世界」より~) (Ikuta Erika & Kubo Shiori)
Itsuka Dekiru Kara Kyou Dekiru (off vocal ver.)
Fuminshou (off vocal ver.)
Atarashii Kafun ~from Musical "Mishiranu Sekai"~ (off vocal ver.)
Type A

CD

Itsuka Dekiru Kara Kyou Dekiru (いつかできるから今日できる)
Fuminshou (不眠症)
Maa Iika? (まあいいか?) (Akimoto Manatsu & Shiraishi Mai)
Itsuka Dekiru Kara Kyou Dekiru (off vocal ver.)
Fuminshou (off vocal ver.)
Maa Iika? (off vocal ver.)

DVD

Itsuka Dekiru Kara Kyou Dekiru (Music Video)
Maa Iika? (Music Video)
Bonus footage
Type B

CD

Itsuka Dekiru Kara Kyou Dekiru (いつかできるから今日できる)
Fuminshou (不眠症)
Shitsuren Oshoujinin (失恋お掃除人) (Umezawa Minami, Sakaguchi Tamami, Yamashita Mizuki & Wakatsuki Yumi)
Itsuka Dekiru Kara Kyou Dekiru (off vocal ver.)
Fuminshou (off vocal ver.)
Shitsuren Oshoujinin (off vocal ver.)

DVD

Itsuka Dekiru Kara Kyou Dekiru (Music Video)
Shitsuren Oshoujinin (Music Video)
Bonus footage
Type C

CD

Itsuka Dekiru Kara Kyou Dekiru (いつかできるから今日できる)
Fuminshou (不眠症)
My rule (19th Under)
Itsuka Dekiru Kara Kyou Dekiru (off vocal ver.)
Fuminshou (off vocal ver.)
My rule (off vocal ver.)

DVD

Itsuka Dekiru Kara Kyou Dekiru (Music Video)
My rule (Music Video)
Bonus footage
Type D

CD

Itsuka Dekiru Kara Kyou Dekiru (いつかできるから今日できる)
Fuminshou (不眠症)
Boku no Shoudou (僕の衝動) (3rd generation)
Itsuka Dekiru Kara Kyou Dekiru (off vocal ver.)
Fuminshou (off vocal ver.)
Boku no Shoudou (off vocal ver.)

DVD

Itsuka Dekiru Kara Kyou Dekiru (Music Video)
Boku no Shoudou (Music Video)
Bonus footage
Music Video (PV)