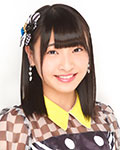 Hashimoto Hikari (橋本耀) announced her graduation from AKB48 on June 22.
This announcement was made during her birthday celebration and her 300th performance at the group theater in Tokyo.
The date of graduation ceremony has not been determined yet.
Hashimoto Hikari explained her wish of leaving the group because she had been thinking about her future and things that she still wanted to do, Hashimoto would be graduating in order to devote more time to her studies.
She thanked on her Google+ account the other members and fans for their support, she also thanked those who organized the birthday live. Flowers were offered her for after her birthday live.
Hashimoto Hikari is member of AKB48 Team B since February 2014. She was previously member of Team A to August 2013. She was a 14th Generation Kenkyuusei member in 2012.
She's 18 years old since June 18.