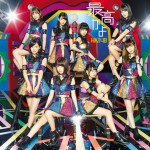 The new single of HKT48 will be released on September 7.
This is the 8th single of HKT48. It is entitled Saikou ka yo (最高かよ).
The short versions of the MVs have been unveiled.
The senbatsu members are : Inoue Yuriya, Kojina Yui, Sashihara Rino, Tashima Meru, Tanaka Miku, Matsuoka Natsumi, Kodama Haruka, Yabuki Nako, Ota Aika, Tanaka Yuka, Fuchigami Mai, Motomura Aoi, Moriyasu Madoka, Tomonaga Mio, Miyawaki Sakura and Matsuoka Hana.
The single's center is Matsuoka Hana, a member from HKT48's Team TII, team which makes her first appearance on this single after its creation.
The single will be available in several editions.
Tracklist
Type-A

CD

Saikou ka yo (最高かよ)
Soramimi Rock (空耳ロック) (Team TII)
Yume Hitotsu (夢ひとつ) (Anai Chihiro to Nakamatachi)
Saikou ka yo (Instrumental)
Soramimi Rock (Instrumental)
Yume Hitotsu (Instrumental)

DVD

Saikou ka yo (Music Video)
Soramimi Rock (Music Video)
Yume Hitotsu (Music Video)
HKT48 United School Trip Vol.1 (HKT48の団結修学旅行 Vol.1)
Type-B

CD

Saikou ka yo (最高かよ)
Soramimi Rock (空耳ロック) (Team TII)
Yozora no Tsuki wo Nomikomou (夜空の月を飲み込もう) (Team H)
Saikou ka yo (Instrumental)
Soramimi Rock (Instrumental)
Yozora no Tsuki wo Nomikomou (Instrumental)

DVD

Saikou ka yo (Music Video)
Soramimi Rock (Music Video)
Yozora no Tsuki wo Nomikomou (Music Video)
HKT48 United School Trip Vol.2 (HKT48の団結修学旅行 Vol.2)
Type-C

CD

Saikou ka yo (最高かよ)
Soramimi Rock (空耳ロック) (Team TII)
Go Bananas! (Team KIV)
Saikou ka yo (Instrumental)
Soramimi Rock (Instrumental)
Go Bananas! (Instrumental)

DVD

Saikou ka yo (Music Video)
Soramimi Rock (Music Video)
Go Bananas! (Music Video)
HKT48 United School Trip Vol.3 (HKT48の団結修学旅行 Vol.3)
Theater Edition

CD

Saikou ka yo (最高かよ)
Soramimi Rock (空耳ロック) (Team TII)
Onna no Ko da mon, Hashiranakya! (女の子だもん、走らなきゃ!) (Matsuoka Hana solo)
Saikou ka yo (Instrumental)
Soramimi Rock (Instrumental)
Onna no Ko da mon, Hashiranakya! (Instrumental)
Music Video (PV)