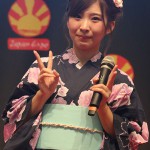 Iwasa Misaki was present at Japan Expo 2016 this year to introduce enka and Japanese traditional pop music to foreign fans.
The former member of AKB48 held live performances and participated in several shows along with the band Hayabusa.
Watch the video and some photos of Iwasa Misaki's live.
Wearing beautiful furisode (kimono), Wasamin delighted the audience with her songs and her cheerfulness.
Iwasa Misaki graduated from AKB48 in March 2016 in order to pursue her solo career as an enka singer.
Japan Expo is the biggest convention dedicated to Japanese culture in Europe. The festival took place on July 7-10, 2016, in Paris Nord Villepinte, France.
Video
Photos