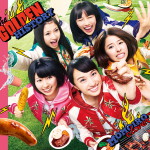 The new single of Momoiro Clover Z The Golden History (ザ・ゴールデン・ヒストリー) will be on sale on 7 septembre.
It's the 17th of Momoiro Clover Z.
The tracklist was unveiled.
The songs' lyrics were written by Tadano Natsumi and Asari Shingo.
The song Hanabi was used as the theme song for the drama Den Shichi Torimonochou. The song Shinru ka Soru ka was used as the entrance song for Yanagita Yuki,a baseball player for Fukuoka SoftBank Hawks.
Momoclo's single released in three versions: two limited CD+Blu-ray editions (A & B) and a regular CD only edition.
Tracklist
Regular Edition

CD

The Golden History (ザ・ゴールデン・ヒストリー)
DECORATION
Hanabi
Shinru ka Soru ka (伸ルカ反ルカ)
The Golden History (off vocal ver.)
DECORATION (off vocal ver.)
Hanabi (off vocal ver.)
Shinru ka Soru ka (off vocal ver.)
Limited Edition A

CD

The Golden History (ザ・ゴールデン・ヒストリー)
DECORATION
Hanabi
The Golden History (off vocal ver.)
DECORATION (off vocal ver.)
Hanabi (off vocal ver.)

Blu-ray

The Golden History (Music Video)
The Golden History (Music Video Off Shot Movie)
Limited Edition B

CD

The Golden History (ザ・ゴールデン・ヒストリー)
DECORATION
Shinru ka Soru ka (伸ルカ反ルカ)
The Golden History (off vocal ver.)
DECORATION (off vocal ver.)
Shinru ka Soru ka (off vocal ver.)

Blu-ray

DECORATION (Music Video)
DECORATION (Music Video Off Shot Movie)