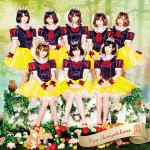 Houkago Princess' new single Kiete, Shirayukihime (消えて、白雪姫) will be released on October 28th.
The members of the idol group turned into Snow White in the MV and on the cover.
This is the 1st major label single by HouPri. They signed under Universal label earlier this year.
The themes of the title song are jealousy and innocence. For the first time, the members of Houkago Princess are acting and trying to express these feelings and emotions on their face in the music video Some elements of the famous fairy tale such as the mirror and the poisoned apple also appear.
Mirror mirror tell me, who is the most beautiful in the world of idols…
The coupling song Kesenai, Nanatsu no Hoshi (消せない、七つの星) is the ending theme for the anime DD Hokuto no Ken 2 Ichigo Aji +.
10 versions are available, including one for each member of Houkago Princess.
Tracklist
CD

Kiete, Shirayukihime.(消えて、白雪姫)
Kesenai, Nanatsu no Hoshi Anime "DD Hokuto no Ken 2 Ichigo Aji +" Ending Theme (消せない、七つの星 アニメ「DD北斗の拳2イチゴ味+」エンディングテーマ)
Kiete, Shirayukihime (Instrumental)
Kesenai, Nanatsu no Hoshi (Instrumental)
Music Video (PV)