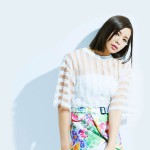 Ichiki Kyoka announced her graduation from E-Girls and Flower.
She explained in a message posted on the official website that she had decided to retire from the entertainment industry in order to be back to a normal life.
Furthermore, Erie (E-Girls, Dream) revealed that she is now going to support her group as a DJ and not as a performer.
The other members of Flower told that they were suprised by Ichiki Kyoka's sudden announcement, but that they had accepted this decision after having discussed with her.
Ichiki Kyoka was a member of E-Girls and Flower since 2011. She had passed the Exile Presents Vocal Battle Audition 3 ~For Girls~.
She thanked the members, LDH staff and the fans for their support, and apologized for the troubles. She claimed that this was a valuable experience which made her realize some dreams.