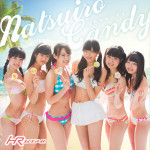 HR (Hakata Reboot) will release their new single Natsuiro Candy (夏色キャンディ) on June 24.
This is the major debut single of HR (Hakata Reboot) under Nippon Columbia label.
The members of the idol group are wearing bikinis on the music video and on the cover artwork.
As the title and the visual suggest, it is a summer song.
The girls invite you to dance and have fun on Fukuoka beach where the video was shot.
Following this major debut, the idol group aims to gain popularity nationwide.
HR hold regular live performances at their own theater located in Hakata, such as HKT48 who are in the same area.
In addition, the members posted a video message to promote this single.
Tracklist
Type A

CD

Natsuiro Candy (夏色キャンディ)
cherry cherry picking
Higher and Higher
Kono Natsu wo Wasurenai (この夏を忘れない)
Natsuiro Candy (Instrumental)
cherry cherry picking (Instrumental)
Higher and Higher (Instrumental)
Kono Natsu wo Wasurenai (Instrumental)

DVD

Music Video (ミュージック・ビデオ)
Making-of (ミュージック・ビデオ・メイキング映像)
Moso Date in Hakata Port (妄想デート IN 博多港)
Type B

CD

Natsuiro Candy
cherry cherry picking
Natsuiro Candy (Instrumental)
cherry cherry picking (Instrumental)
Type C

CD

Natsuiro Candy
Kono Natsu wo Wasurenai
Natsuiro Candy (Instrumental)
Kono Natsu wo Wasurenai (Instrumental)
Type D

CD

Natsuiro Candy
Higher and Higher
Natsuiro Candy (Instrumental)
Higher and Higher (Instrumental)
Music Video (PV)