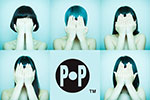 4 new members joined Pla2me. Their names are Inukai Maaya, Yamamachi Miki, Shigusawa Ao and Yumeno Yua. Their faces haven't been revealed yet as they are hidden by their hands on the profile picture.
In addition, Pla2me changed their name to POP. The staff explained that it is an acronym for Period Of Plastic 2 Mercy.
It was also announced that POP (Period Of Plastic 2 Mercy) was going to release a mini-album featuring 10 songs on August 8.
They will give a concert on August 9 at Tokyo Unit.
Auditions were held in April, after that Mizuta Mari announced her withdrawal from Pla2me. Her last live performance as a duet with Kamiya Saki took place on May 31.