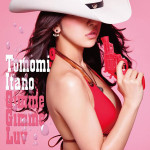 Itano Tomomi's 7th single Gimme Gimme Luv will be released on July 1.
Itano Tomomi appears as a sexy cowgirl in bikini with a hat and a red gun on the covers of the single.
The music video has been unveiled.
It seems that Tomochin needs love. She uses her weapon to shoot down all your heart, and tries to make you succumb to temptation.
Alongside 4 backup dancers, the former member of AKB48 shows off her skills. She wears 5 different costumes in the MV.
The lead track is an electro dance music song with latin flavor.
It should be noted that Type B comes with a water pistol.
Tracklist
Regular Edition

CD

Gimme Gimme Luv
Queen Bee
Belly Dancer
Type A

CD

Gimme Gimme Luv
Queen Bee
Gimme Gimme Luv (Instrumental)
Queen Bee (Instrumental)

DVD

Gimme Gimme Luv (Music Video)
Type B

CD

Gimme Gimme Luv
Belly Dancer
Gimme Gimme Luv (Instrumental)
Belly Dancer (Instrumental)

Goods

GGL Pistol
Music Video (PV)