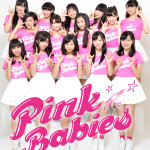 Pink Babies are going to participate in Japan Expo 2015 in France in July.
The members of the idol group have been appointed PR ambassadors to promote Japanese traditional crafts and products.
Pink Babies will perform at the Japan in Motion Live Show on Thursday. They will host a talk show on Saturday.
The girls will also be present at the Hello Kitty Cafe on July 2-5.
The idol group continues to expand its activities overseas. This is the third time that Pink Babies will come in France. They partiicipated in CLAS:H 2015 in Jakarta, Indonesia, in May.
Japan Expo is the biggest convention dedicated to Japanese culture in Europe. The festival will take place in Paris Nord Villepinte on July 2-5, 2015.