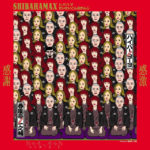 The new hy4_4yh single entitled Shibahamax ~Shibahama Daitai Konna Kanji (SHIBAHAMAX〜シバハマだいたいこんなかんじ) was released on December 20th.
This is the 20th single of the funk idol group hy4_4yh ; it is also the first for 2 years.
Check out the MV below.
Only one edition is available.
The CD contains the title track, its instrumental version and a new song.
Tracklist
Shibahamax ~Shibahama Daitai Konna Kanji (SHIBAHAMAX〜シバハマだいたいこんなかんじ)
Yavahamax ~Atai to Chan no "Souda, Shibahama Itte Miyou" (YAVAHAMAX~あたいとちゃんの「そうだ、芝浜行ってみよう」)
Shibahamax ~Shibahama Daitai Konna Kanji (Instrumental)
Music Video (PV)