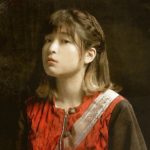 Leader Pour Lui announced her graduation from BiS (Brand-new Idol Society).
This announcement was made on January 6 on the BiS' official website.
According to Pour Lui, she commented that BiS is no longer needed for her and that she was not needed for BiS. She thinks the group no longer needs her to continue its activities. She also mentioned how she thought about her graduation during her hiatus in September.
Her last day with BiS will take place on March 4 at Ryogoku Kokugikan.
BiS will release in March a new single, with double A-side, entitled Whole Lotta Love / DiSPROMiSE and it was confirmed Pour Lui and Kamiya Saki (Gang Parade) will not participate in the recording of the song Whole Lotta Love (Aya Eight Prince, from Gang Parade, too who will be back by then). However, the song DiPROMiSE feature her and Kamiya Saki and will be Pour Lui's graduation song.
Pour Lui was the leader of the unconventional idol group during the first formation of BiS from 2011 to 2014, then the second and current formation from 2016 to now. She has also made a career as a solo singer.
We wish her a very good continuation in her upcoming activities.