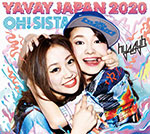 hy4_4yh's new single Yavay Japan 2020 / Oh! Sista was released on December 3rd.
As the title of the single suggests, the members of hy4_4yh celebrate the Olympic Games that are going to be held in Tokyo in 2020. It is a double A-side.
The 2 music videos have been unveiled.
Only one edition is available. The CD contains 2 songs and an instrumental version.
Moreover, hy4_4yh will hold 2 live performances on December 21-22 at Shibuya Garret Udagawa, Tokyo. The theme of the first day is "club", whereas the second one is "rock'n roll".
Tracklist
Yavay Japan 2020
Oh! Sista
Yavay Japan 2020 (Instrumental)
Music Video (PV)