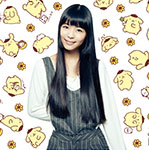 Terashima Yufu's new single Neko ni Naritai (猫になりたい) will be released on December 17th.
As the title suggests, Terashima Yufu wants to become a cat on her 3rd solo single.
Check out the music video.
The lead song Neko ni Naritai is produced by Tei Towa. It is an electro dance music song inspired by the 80s.
The B-side is a cover of Like a Virgin arranged by Panda BoY. He has already with idols such as Up Up Girls (Kari) and Dempagumi.inc.
The lyrics of the 3rd track Neraiuchi (ねらいうち) were written by Yamamoto Show from the band Phenotas. The music was arranged by Mosaic.wav.
The limited edition comes with a bonus DVD featuring the live video from the release event held for Terashima Yufu's previous single Campanula no Yuuutsu (カンパニュラの憂鬱). It took place on August 10, 2014 at Tsutaya O-Nest.
Furthermore, Terashima Yufu 1st Solo Live Yufu Flight will be held on February 8, 2015 at Shibuya WWW, Tokyo.
Tracklist
Limited Edition

CD

Neko ni Naritai (猫になりたい)
Like a Virgin (ライク・ア・ヴァージン)
Neraiuchi (ねらいうち)
Neko ni Naritai (Off vocal)

DVD

2014.08.10 Terashima Yufu Live "Hajime na Idol Tachi no Natsu Honban" @ Tsutaya O-Nest (2014.08.10寺嶋由芙 CDリリース記念「まじめなアイドル達の夏本番」@Tsutaya O-Nestライブ映像)
Type A

CD

Neko ni Naritai
Like a Virgin
Campanula no Yuuutsu (Ahito Inazawa Remix) (カンパニュラの憂鬱(アヒト・イナザワ Remix))
Type B

CD

Neko ni Naritai
Neraiuchi
Campanula no Yuuutsu (Ahito Inazawa Remix) (カンパニュラの憂鬱(アヒト・イナザワ Remix))
Music Video (PV)