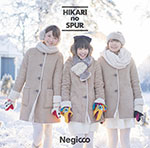 The new single of Negicco Hikari no Spur (光のシュプール) was released on December 2.
This is the 15th single of the idol group and the 8th under the label T-Palette Records. It mainly deals with the theme of winter.
The lists of titles and music video have been revealed.
The single was released in several editions : one regular and three limited. The regular edition includes CD only while the limited editions rated A and B contains the same CD and a surcharge DVD.
The CD contains : the title song Hikari no Spur written and composed by Connie (the usual producer of the group) and arranged by Tajima Takao ; a new song in B-side 1000% no Kataomoi also written and composed by Connie and arranged this time by Shiggy Jr ; and their instrumental versions.
The DVD of the limited edition A includes music video of the title song and a bonus video whereas the limited edition B includes videos of Negicco's previous songs in remixed version. Another limited edition is on sale : it is the single in EP version including a 7″ CD single containing only the two main songs.
The addition, in the first current sales of the disc, it is accompanied by the music card.
Discover music video of Hikari no Spur filmed in Finland under the snow.
Tracklist
Hikari no Spur (光のシュプール)

1000% no Kataomoi (1000%の片想い)

Hikari no Spur (instrumental)

1000% no Kataomoi (instrumental)
Hikari no Spur (Music Video)

Hikari no Spur (Bonus Video)
Koi no Express Train 

(ayU tokiO rearrange ver) (恋のEXPRESS TRAIN)

Soshisoai (Ara Koi remix) (相思相愛(あら恋 remix))
[SIDE A]

Hikari no Spur (光のシュプール)

[SIDE B]

1000% no Kataomoi (1000%の片想い)
Music Video (PV)