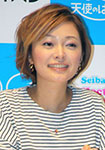 Former Morning Musume member Ichii Sayaka revealed that she had applied for the Otona AKB48 Audition.
Otona AKB48 (大人AKB48) is a project made in collaboration between the idol group and Glico.
The winners will participate in TV CM for the Papico 2014 Spring Campaign. They will also hold concerts and handshake events along with AKB48.
Audition is opened for women over 30 years. They can be married or single, professionnal or amateur.
Ichii Sayaka wrote on her blog that she was worried because she was still waiting the result of the 1st round of the audition.
Ichii Sayaka is 30. She had joined Morning Musume as a 2nd generation member in May 1998. She graduated from Hello! Project in May 2000 in order to focus on her studies.
A short video featuring the members of AKB48 has been released.