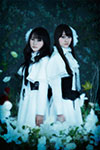 Sayashi Riho (Morning Musume '14) and Wada Ayaka (S/mileage) will be starring in the musical Lilium (リリウム 少女純潔歌劇).
Morning Musume '14 (Oda Sakura, Kudo Haruka, Ishida Ayumi, Fukumura Mizuka, Sato Masaki, Suzuki Kanon), S/mileage and Hello Pro Kenshuusei will also perform in Lilium.
Lilium is a gothic musical. The members of Hello! Project will play the roles of cute vampires.
The musical will run on June 5-15 at Ikebukuro Sunshine Theater in Tokyo, and on June 20-21 at Morinomiya Piloti Hall in Osaka.
It is part of the Gekidan Gekiharo (劇団ゲキハロ) project.
The album with the original soundtrack will be on sale on August 6.
The DVD will be released on September 24.