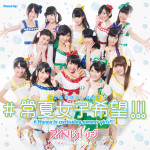 Idol College's new single #Tokonatsu Joshi Kibou (#常夏女子希望!!!) will be released on May 13.
The unit worked in collaboration with Kurihara Satoru (Jazzin' Park) for this single.
Check out the MV.
The costumes of the girls have 5 color variations. The design is different for each member.
Ebihara Yuka, Ishizuka Shioka and their teammates show off their dancing and acrobatic skills in the music video.
The title is translated in English as "Wanna be everlasting summer girls!!!".
Kurihara Satoru (Jazzin' Park) wrote the lyrics and composed the music for the lead song.
It will be the ending theme for Bananaman no Sekkaku Gourmet (バナナマンのせっかくグルメ) TV show airing on TBS.
The lyrics of Boku wa Nakanai (ぼくは泣かない) were written by No.4. The music was composed and arranged by Oshima Kosuke.
Harmonia (ハルモニア) was written by Kai, composed by Hamada Mikihiro and arranged by ailes.
Furthermore, Idol College One-Man Live ~Natsu made Matenai! Hashaijatte mo Ii Desu ka?~ (アイドルカレッジ ワンマンライブ 〜夏まで待てない!はしゃいじゃってもイイですか?〜) will be held on May 24 at Laforet Museum Harajuku, Tokyo.
Tracklist
Type A

CD

#Tokonatsu Joshi Kibou!!! (#常夏女子希望!!!)
Boku wa Nakanai (ぼくは泣かない)
Type B

CD

#Tokonatsu Joshi Kibou!!!
Harmonia (ハルモニア)
Type C

CD

#Tokonatsu Joshi Kibou!!!
Boku wa Nakanai
Harmonia
#Tokonatsu Joshi Kibou!!! (Off vocal)
Boku wa Nakanai (Off vocal)
Harmonia (Off vocal)
Limited Edition

CD

#Tokonatsu Joshi Kibou!!!
Boku wa Nakanai
Harmonia
#Tokonatsu Joshi Kibou!!! (Off vocal)
Boku wa Nakanai (Off vocal)
Harmonia (Off vocal)

DVD

#Tokonatsu Joshi Kibou!!! (Music Clip)
Making Movie (メイキング映像)
Music Video (PV)