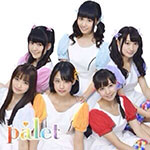 As a campaign for their 2nd single Keep on Lovin' You, Palet will have an unheard of event called Palet Hide and Seek ~Akihabara~ (paletかくれんぼ ~秋葉原編~) on February 19.
Participants will try to find Palet members Takeda Shaki and Hajime Mizuki all over the city.
Clues of their whereabouts will be tweeted more or less every 10 mins.
Winners will receive a handwritten certificate and a souvenir photo with the girls right there on the spot.
It's a first as it takes a simple meet and greet event into a whole new level.
More on this on their blog.
Palet's new single Keep on Lovin' You will be released on April 23, 2014.