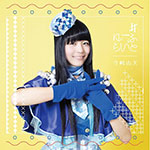 Former BiS member Terashima Yufu's 1st single #Yuflight (#ゆーふらいと) will be released on February 26.
This is the solo debut single from Terashima Yufu.
The lyrics of #Yuflight were written by Dempagumi.inc's Yumemi Nemu. The music was composed by Rionos.
The MV has been released.
Terashima Yufu graduated from BiS in the spring of 2013. She was elected Miss iD 2014 (ミスiD2014) last year.
3 versions of the single are available.
The limited editions include a bonus DVD. The content hasn't been unveiled yet.
Tracklist
CD

Yuflight (#ゆーふらいと)
Zenzen (ぜんぜん)
Yuflight (#ゆーふらいと) (Instrumental)
Zenzen (ぜんぜん) (Instrumental)
Music Video (PV)