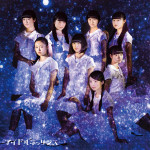 Idol Renaissance will release its its single Kimi no Shiranai Monogatari (君の知らない物語) on July 26.
It's the 6th single of Idol Renaisance. One edition is available.
The new members Harada Suzuka and Nomoto Yumeka joined the idol group the last mounth. They will make their first appearance on this single.
The title song Kimi no Shiranai Monogatari is cover of the 2009 song of the groupe Supercell.
The song Natsu ga Kita! is a cover of Watanabe Misato.
The song Travellers High is a cover of Sukima.
Idol Renaissance will participate in several events in July.
They will be also present at au Tokyo Idol Festival 2016 in next August.
Tracklist
CD

Kimi no Shiranai Monogatari (君の知らない物語)
Natsu ga Kita! (夏が来た!)
Travellers High (トラベーズ・ハイ)
Kimi no Shiranai Monogatari (instrumental)
Natsu ga Kita! (instrumental)
Travellers High (instrumental)
Music Video (PV)