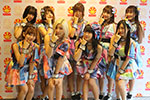 Cheeky Parade participated in Japan Expo 2016 in Paris Nord Villepinte, France, in July.
The idol group made one of its last appearance with the 9 original members before Yamamoto Marin and Suzuki Mariya go to Los Angeles.
Check out our interview with Cheeky Parade.
Could you introduce yourselves ?
Suzuki Yuriya : We are Cheeky Parade. As the group name suggests, we are girls who were selected for our strong personality. Our common point is that we are "cheeky". The word "parade" means "marching forward". We work in the entertainment industry, and we are very ambitious to reach success.
Could you tell us a few words about your last album Cheeky Parade II released in June ?
Kodakari Momoka : Honestly, we gave it all we've got. Two of us, Yamamoto Marin and Suzuki Mariya, will go to Los Angeles for 2 years in order to study. This is the last CD that we did together before their departure. Through this album, we tried to express the fact that we are still motivated. We also wish to make you want continue to follow us during this period.
Concerning the departure of Yamamoto Marin and Suzuki Mariya, are you getting worried about the future of Cheeky Parade ?
Suzuki Yuriya : From our point of view, this is not a separation. We make our own way to improve our skills individually and to keep on training. But we will reunite in 2 years, so we are not worried. We are wondering how strong will be the unit when they will be back.
Yuriya and Mariya, you are sisters, is it a strong point for you to be in the same group ?
Suzuki Yuriya : As we are sisters, we can better understand each other. We can support mutually. For example, when one of us makes a mistake, this can be important.
What is your best memory since your debut ?
Nizorogi Seran : Since we know that 2 members were going to leave temporarily Cheeky Parade, we thought that we should enjoy our last moments together. We decided to go to Disneyland Tokyo. We had a lot of fun, and this day was one of our best memories recently. This was not a farewell, but we spent a very very good moment together.
What are your next projects ?
Suzuki Yuriya : The upcoming single of Cheeky Parade will be released on September 7. The title is Hands up!. This will be our first CD as a 7-member unit. Please don't hesitate to follow us on our website.
What are your goals for the future ?
Nagai Hina : We would like to expand activities overseas. We have already held live performances in France and in the USA, but we also want to go to other countries.
How do you feel about having many foreign fans ?
Watanabe Asami : We are very happy to have fans in other countries. Concerning France, we realized it when we received, through social networks, some messages asking us to come there. In the USA, we didn't have time to communicate, but we realized that people already knew us and this was very pleasant. We are proud to perform in Japan and overseas.
Did have time to visit Paris during your stay at Japan Expo ?
Watanabe Asami : This is not the first time that we are coming to Paris, but we have got the feeling that something is special now. We went to the Arc de Triomphe and to the Eiffel Tower. There was as huge ball in the middle of the tower (note : for the Euro 2016 championship), and we thought that we were living a special moment in Paris.
Do you have a message for foreign fans ?
Suzuki Yuriya : In Japan, we will only be 7, but the 2 other members who are going to leave soon to Los Angeles will continue to practice. They will learn English, so we could better communicate with our fans living abroad. We want to keep in touch with you, and we hope that you will bring us all the support that we need to continue this way.