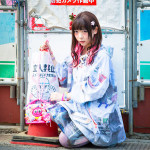 Rhymeberry welcomed their new member DJ OMOCHI.
She joined the idol group in July. She was added to the two MCs MIRI and MISAKI.
DJ OMOCHI replaced the original DJ of the group, DJ HIKARU, who left Rhymeberry in February 2015.
DJ U-NIN joined the group previously, in December, but she left in January.
DJ OMOCHI's real name is Fukumaru Mochi (福円 もち). She was born on November 19, 1997 and she is 18. She was semi finalist of Miss iD 2017.
Check out the profile photos of this new member and the group, below.