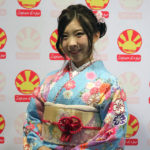 Former member of AKB48, Iwasa Misaki pursues her solo career as an enka for a few years.
Wasamin was the guest of Japan Expo Sud 2017 in France in February.
We had the opportunity to meet Iwasa Misaki for an interview during the event.
Could you introduce yourself?
My name is Iwasa Misaki. I'm 22 years old. I'm a Japanese enka singer.
For those who do not know, could you explain what enka is?
In Japan, this music genre is very popular. It has historical roots. We feel the heart of traditional Japan.
What do you like most about it?
Enka is a music genre that is very different from pop. The songs are more stylish.
Yous started your career as a member of AKB48. Could you tell us about this period?
That was a very fun experience. There was a very good atmosphere between us. I have also met many interesting people.
When you started in music, was it your goal to become an enka singer?
When I was a child, I already knew that I wanted to become a singer. When I debuted with AKB48, I still wanted that. And it's true that I was thinking of singing enka for a long time.
Could you tell us about your single Saba Kaidou (鯖街道) which was released in January?
Saba Kaidou is the name of a road linking Fukui Prefecture, which is a port region, to Kyoto Prefecture where fish was transported in the old days. This is the theme of the song.
What is your best memory since your debut?
I have a lot of good memories. AKB48 is an idol group with many singers. The first time I was alone on stage in front of the audience, I was a little nervous but also very happy.
Do you have a message for your foreign fans?
Enka is not well known overseas. There are some very good songs. So I would like people to be interested in it, and also to support me in this career I want to do.