AKB48's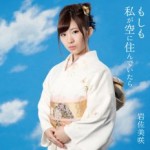 Iwasa Misaki's 2nd single Moshimo Watashi ga Sora ni Sundeitara (もしも私が空に住んでいたら) will be released on January 9.
The single includes an enka version of AKB48's Flying Get by Iwasa Misaki. It also contains covers of Ishikawa Sayuri's Tsugaru Kaikyou Fuyugeshiki and Jonouchi Sanae's Ajisai-bashi.
The limited edition comes with a bonus DVD featuring music video, making-of, and another video.
Regular Edition
CD

Moshimo Watashi ga Sora ni Sundeitara (もしも私が空に住んでいたら)
Flying Get (フライングゲット) (Enka Version)
Tsugaru Kaikyo Fuyugeshiki (津軽海峡・冬景色)
Moshimo Watashi ga Sora ni Sundeitara (もしも私が空に住んでいたら) (Instrumental)
Flying Get (フライングゲット) (Enka Version) (Instrumental)
Tsugaru Kaikyo Fuyugeshiki (津軽海峡・冬景色) (Instrumental)
Limited Edition
CD

Moshimo Watashi ga Sora ni Sundeitara (もしも私が空に住んでいたら)
Flying Get (フライングゲット) (Enka Version)
Ajisai-bashi (あじさい橋)
Moshimo Watashi ga Sora ni Sundeitara (もしも私が空に住んでいたら) (Instrumental)
Flying Get (フライングゲット) (Enka Version) (Instrumental)
Ajisai-bashi (あじさい橋) (Instrumental)
DVD

Moshimo Watashi ga Sora ni Sundeitara (もしも私が空に住んでいたら) (Music Video)
Moshimo Watashi ga Sora ni Sundeitara (もしも私が空に住んでいたら) (Making of)
Iwasa Misaki no Nayamigoto Yamakawa Yukata-san ni Kiite Moraimashita (岩佐美咲の悩みごと 山川豊さんに聞いてもらいました)
Iwasa Misaki – Moshimo Watashi ga Sora ni Sundeitara (PV Preview)