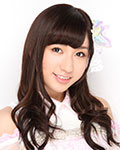 Katayama Haruka announced her graduation from AKB48.
Katayama Haruka is a member of AKB48 Team B. She will continue to participate in various activities with the idol group until September 23.
The date of her graduation live performance and ceremony hasn't been determined yet.
Katayama Haruka explained on her blog that she wanted to become a musical actress.
She had already announced that she was not candidate for the 6th AKB48 Senbatsu General Election 2014 (AKB48 選抜総選挙 2014).
Katayama Haruka joined AKB48 as a 3rd generation member in 2007.