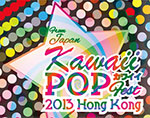 Up Up Girls, Dorothy Little Happy, Dempagumi.inc, 9nine, and Super☆Girls will perform at Kawaii Pop Fest 2013 Hong Kong.
The festival will be held on May 17-19 at Music Zone @E-Max, KITEC, Kowloon Bay, Hong Kong. The event is organized by @Jam and Top Yell.
There will be 3 days of live performance. Check out the schedule for each idol group.
Schedule
17/05/2013

14:00 : Dorothy Little Happy
17:00 : Dempagumi.inc
20:00 : 9nine
18/05/2013

14:00 : Up Up Girls
17:00 : Dorothy Little Happy
20:00 : Dempagumi.inc
19/05/2013

17:00 : Up Up Girls
20:00 : Super☆Girls