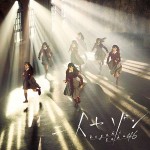 The new single of Keyakizaka46 Futari Season (二人セゾン) will be released on November 30th.
It's the 3rd single of the Keyakizaka46.
The center position is held by Hirate Yurina.
The senbatsu members are:
Kanji Keyakizaka46 : Ishimori Nijika, Imaizumi Yui, Uemura Rina, Ozeki Rika, Oda Nana, Koike Minami, Kobayashi Yui, Sato Shiori, Saito Fuyuka, Shida Manaka, Sugai Yuuka, Suzumoto Miyu, Nagasawa Nanako, Habu Mizuho, Harada Aoi, Hirate Yurina, Moriya Akane, Yonetani Nanami, Watanabe Rika and Watanabe Risa
Hiragana Keyakizaka46 : Nagahama Neru
The MV was posted on YouTube.
The first sales of limited editions A, B and C will include a ticket to participate in a handshake event.
Tracklist
Regular Edition

CD

Futari Saison (二人セゾン)
Otona wa Shinjite Kurenai (大人は信じてくれない)
Yuuhi 1/3 (夕陽1/3) (Techineru Yuichanzu)
Futari Saison (off vocal ver.)
Otona wa Shinjite Kurenai (off vocal ver.)
Yuuhi 1/3 (off vocal ver.)
Type A

CD

Futari Saison (二人セゾン)
Otona wa Shinjite Kurenai (大人は信じてくれない;)
Seifuku to Taiyou (制服と太陽)
Futari Saison (off vocal ver.)
Otona wa Shinjite Kurenai (off vocal ver.)
Seifuku to Taiyou (off vocal ver.)

DVD

Futari Saison (music video)
Otona wa Shinjite Kurenai (music video)
Oda Nana PV
Koike Minami PV
Saito Fuyuka PV
Habu Mizuho PV
Hirate Yurina PV
Moriya Akane PV
Yonetani Nanami PV
Watanabe Rika PV
Type B

CD

Futari Saison (二人セゾン)
Otona wa Shinjite Kurenai (大人は信じてくれない)
Dare Yori mo Takaku Tobe! (誰よりも高く跳べ!)
Futari Saison (off vocal ver.)
Otona wa Shinjite Kurenai (off vocal ver.)
Dare Yori mo Takaku Tobe! (off vocal ver.)

DVD

Futari Saison (music video)
Dare Yori mo Takaku Tobe! (music video)
Ishimori Nijika PV
Imaizumi Yui PV
Ozeki Rika PV
Kobayashi Yui PV
Sato Shiori PV
Sugai Yuuka PV
Suzumoto Miyu PV
Harada Aoi PV
Type C

CD

Futari Saison (二人セゾン)
Otona wa Shinjite Kurenai (大人は信じてくれない)
Bokutachi no Sensou (僕たちの戦争) (FIVE CARDS)
Futari Saison (off vocal ver.)
Otona wa Shinjite Kurenai (off vocal ver.)
Bokutachi no Sensou (off vocal ver.)

DVD

Futari Saison (music video)
Bokutachi no Sensou (music video)
Uemura Rina PV
Shida Manaka PV
Nagasawa Nanako PV
Watanabe Risa PV
Nagahama Neru PV
Keyakizaka46 Bonus Video (けやき坂46 特典映像)
Music Video (PV)