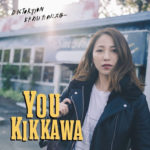 Kikkawa You unveils her new single Tokimeita no ni Through / Distortion (ときめいたのにスルー/DISTORTION).
It's Kikkawa You's 12th single and it will be available on January 17th.
Check out the two MVs.
The single is available in three editions.
The song Tokimeita no ni Through was written and composed by Oomori Seiko.
The song Distortion was written by Rihime and composed by Okuwaki Tsutaya
The CD contains the two main songs as well as their instrumental versions. That of the limited edition B will feature an additional song in B-side Karei Naru Daihenshin.
The DVD of the limited edition A contains both clips and their realization.
Tracklist
Regular Edition

CD

Tokimeita no ni Through (ときめいたのにスルー)
DISTORTION
Tokimeita no ni Through (Instrumental)
DISTORTION (Instrumental)
Type A

CD

Tokimeita no ni Through (ときめいたのにスルー)
DISTORTION
Tokimeita no ni Through (Instrumental)
DISTORTION (Instrumental)

DVD

Tokimeita no ni Through (Music Video)
DISTORTION (Music Video)
Making Of
Type B

CD

Tokimeita no ni Through (ときめいたのにスルー)
DISTORTION
Kareinaru Daihenshin
Tokimeita no ni Through (Instrumental)
DISTORTION (Instrumental)
Music Video (PV)