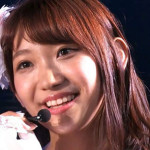 Kobayashi Marina announced her graduation today during Team 4 stage performance Idol no Yoake at the AKB48 Theater.
Kobayashi Marina said that her dream was to become a journalist, that she was thinking about her graduation for one year, but that she liked being an idol.
Kobayashi Marina also told that you need to know many things in order to be a journalist, so she decided to focus on studies.
She added that she wasn't hesitating anymore because she is a member of AKB48 for 5 years (although her career has been difficult) and that she has wonderform memories with the group.