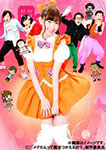 The TV drama Megutan tte Mahou Tsukaeruno? (メグたんって魔法つかえるの?) starring Kojima Haruna (AKB48) will be released on DVD on March 22.
Kojima Haruna plays the role of a magical girl who can erase memories by showing her panties.
Sashihara Rino (HKT48) and Watanabe Mayu (AKB48) also make an appearance in the series.
The DVD box set includes a bonus disc and a booklet. The limited editions comes with an extra disc.