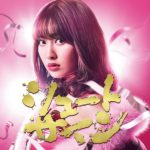 AKB48 will release their 47th single Shoot Sign (シュートサイン) on March 15 .
The central member is Kojima Haruna. This is the last appearance of 1st generation member Kojiharu with the famous idol group, since Kojima Haruna graduated from AKB48 and held a last concert with AKB48 on last February 22. She also performs a solo song on this single.
The title song is used as the theme song of the drama Tofu Pro Wrestling in which plays Kojima and some AKB48 members .