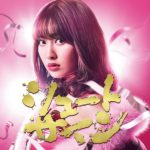 AKB48 will release their 47th single Shoot Sign (シュートサイン) on March 15 .
The central member is Kojima Haruna. This is the last appearance of 1st generation member Kojiharu with the famous idol group, since Kojima Haruna graduated from AKB48 and held a last concert with AKB48 on last February 22. She also performs a solo song on this single.
The title song is used as the theme song of the drama Tofu Pro Wrestling in which plays Kojima and some AKB48 members .
Several editions will be available.
The selected members (senbatsu) are: Kojima Haruna, Iriyama Anna, Oya Shizuka, Yokoyama Yui, Minegishi Minami, Mukaichi Mion, Mutu Tomu, Kato Rena, Kizaki Yuria, Watanabe Mayu, Kashiwagi Yuki, Okada Nana, Kawamoto Saya, Kojima Mako, Komiyama Haruka, Takahashi Juri, Oguri Yui, Onishi Momoka, Matsui Jurina, Goto Rara, Suda Akari, Ichikawa Miori, Yamamoto Ayaka, Yamamoto Sayaka, Yoshida Akari, Shiroma Miru, Sashihara Rino, Kodama Haruka, Miyawaki Sakura, Matsuoka Hana, Kitahara Rie and Nakai Rika.
Each sister group performs a song on this single. NGT48, formed in october 2015, make their first appearance in an AKB48 single ; the group will also make its debut by releasing a single in April.
The limited editions will contain tickets during the first sales to attend an event organized by the group.
Check out the short versions of the music videos below.
Tracklist
Type A

CD

Shoot Sign (シュートサイン)
Kizukarenai You ni… (気づかれないように…) (Haruna Kojima solo)
Vacancy (SKE48)
Shoot Sign (off vocal ver.)
Kizukarenai You ni… (off vocal ver.)
Vacancy (off vocal ver.)

DVD

Shoot Sign (Music Video)
Kizukarenai You ni… (Music Video)
Vacancy (Music Video)
Type B

CD

Shoot Sign (シュートサイン)
Kizukarenai You ni… (気づかれないように…) (Haruna Kojima solo)
Mayonaka no Tsuyogari (真夜中の強がり) (NMB48)
Shoot Sign (off vocal ver.)
Kizukarenai You ni… (off vocal ver.)
Mayonaka no Tsuyogari (off vocal ver.)

DVD

Shoot Sign (Music Video)
Kizukarenai You ni… (Music Video)
Mayonaka no Tsuyogari (Music Video)
Type C

CD

Shoot Sign (シュートサイン)
Kizukarenai You ni… (気づかれないように…) (Haruna Kojima solo)
Tomaranai Kanransha (止まらない観覧車) (HKT48)
Shoot Sign (off vocal ver.)
Kizukarenai You ni… (off vocal ver.)
Tomaranai Kanransha (off vocal ver.)

DVD

Shoot Sign (Music Video)
Kizukarenai You ni… (Music Video)
Tomaranai Kanransha (Music Video)
Type D

CD

Shoot Sign (シュートサイン)
Accident Chuu (アクシデント中) (AKB48 U-19 senbatsu)
Midoritomori no Undoukouen (みどりと森の運動公園) (NGT48)
Shoot Sign (off vocal ver.)
Accident Chuu (off vocal ver.)
Midoritomori no Undoukouen (off vocal ver.)

DVD

Shoot Sign (Music Video)
Accident Chuu (Music Video)
Midoritomori no Undoukouen (Music Video)
Type E

CD

Shoot Sign (シュートサイン)
Accident Chuu (アクシデント中) (AKB48 U-19 Senbatsu)
Dare no Koto wo Ichiban Aishiteru? (誰のことを一番 愛してる) (SakamichiAKB)
Shoot Sign (off vocal ver.)
Accident Chuu (off vocal ver.)
Dare no Koto wo Ichiban Aishiteru? (off vocal ver.)

DVD

Shoot Sign (Music Video)
Accident Chuu (Music Video)
Dare no Koto wo Ichiban Aishiteru? (Music Video)
Edition Théâtre

CD

Shoot Sign (シュートサイン)
Kizukarenai You ni… (気づかれないように…) (Haruna Kojima solo)
Kanashii Uta wo Kikitakunatta (悲しい歌を聴きたくなった) (Mayuyukirin)
Shoot Sign (off vocal ver.)
Kizukarenai You ni… (off vocal ver.)
Kanashii Uta wo Kikitakunatta (off vocal ver.)
Music Video (PV)