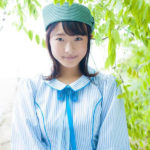 Kuroiwa Yui announced her graduation from STU48.
This announcement was made on October 2 by herself and via STU48's website.
Kuroiwa Yui chose to leave STU48 to devote herself to her studies. It is obviously difficult for her to work with the group and be in school at the same time.
Kuroiwa Yui is a 1st generation member of STU48. She is the first girl to leave the idol group.
Born on 11 March 2002, she is 15 years old.
In addition, the debut single of STU48 will be released on January 31, 2018, though it was originally scheduled to be released on November 1st.