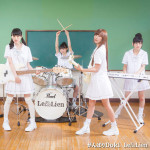 Le Lien's new single Ganbari Doki (がんばりDoki) will be released on September 2.
This is the major debut single from Le Lien under Universal Music Japan label.
The female rock band and idol group performs cover songs from Shiritsu Ebisu Chugaku and Team Syachihoko.
The new visual has been revealed.
The members of Le Lien are wearing white Japanese school uniforms (sailor fuku). The aim is to give them an image of pure girls. They wore these costumes for the first time during their live performance at Tokyo Idol Festival 2015.
The Type C features covers of Shiritsu Ebisu Chuugaku's The Tissue ~Tomaranai Seishun (~ザ・ティッシュ~とまらない青春~) and Team Syachihoko's Dakishimete Anthem (抱きしめてアンセム). All these idol groups are part of Stardust Promotion.
The members of Le Lien are also models. Their average age is 16 years old.
Tracklist
Type A / B / Regular Edition

Ganbari Doki (がんばりDoki)
Every Time ~Kirai no Hantai~ (Every time~きらいのはんたい。~)
Type C

Ganbari Doki
Every Time ~Kirai no Hantai~
The Tissue ~Tomaranai Seishun (~ザ・ティッシュ~とまらない青春~)
Dakishimete Anthem (抱きしめてアンセム)
Music Video (PV)