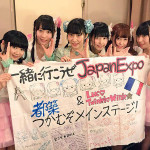 Luce Twinkle Wink☆ are going to participate in Japan Expo 2015 in Paris Nord Villepinte, France, in July 2015.
The idol group won the Tokyo Candoll contest. Their prize for this success is the possibility to hold a live performance on Japan Expo main stage.
This event will be the first overseas live show of Luce Twinkle Wink☆.
The other idol groups which participated in Tokyo Candoll contest were pinafa, Posh, Hoshino Chiroru (星乃ちろる), hirominimum, Azazel, dora☆dora, 2& and LoliSyn (合法幼女症候群-ロリータシンドローム- ; Lolita Syndrome).
Japan Expo is the biggest convention dedicated to Japanese culture in Europe. The festival will take place on July 2-5, 2015.
Further details will be announced later.
Congratulations to Luce Twinkle Wink☆ !