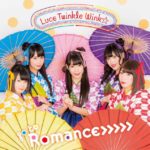 The new single of Luce Twinkle Wink☆ was released on March 8.
It is entitled go to Romance>>>>>. This is the 3rd major single by Luce Twinkle Wink☆, an idol group from Arc Jewel.
The short versions of the MV (in several parts) have been unveiled.
go to Romance >>>>> is the new opening theme song from the TV anime series Urara Maze Team (うらら迷路帖). It was written by Kumano Kiyomi and composed by Oosumi Oosaka.
The B-side track Meteor Bell was written by Minoko Hana and composed by Cayoko.
Chiba "naotyu-" Naoki was responsible of the arrangement of these two songs.
The song Osuki, Suki, Osuki, Suki,,,,, was written by Takase Ai, composed by No_my and arranged by Kusano Yoshihiro.
The single is sold in several editions.
The CD of the edition B is different from the ones of the other editions.
The limited edition has a DVD containing the clip, its making-of, its dance version, etc.
Tracklist
Type A

CD

go to Romance>>>>>
meteor bell
go to Romance>>>>> (TV Size)
go to Romance>>>>> (Instrumental)
meteor bell (Instrumental)
Type B

CD

go to Romance>>>>>
Osuki, Suki, Osuki, Suki,,,,,
go to Romance>>>>> (TV Size)
go to Romance>>>>> (Instrumental)
Osuki, Suki, Osuki, Suki,,,,, (Instrumental)
Limited Edition

CD

go to Romance>>>>>
meteor bell
go to Romance>>>>> (TV Size)
go to Romance>>>>> (Instrumental)
meteor bell (Instrumental)

DVD

go to Romance>>>>> (Music Video)
go to Romance>>>>> (Dance ver.)
go to Romance>>>>> (Making-of)
SPOT (pre-release / On sale / Fukazawa Saki ver. / Nishikiori Megumi ver. / Higaki Kaho ver. / Itayama Saori ver. / Usami Yukino ver. )

TV animation "Urara Maze Team" Non Credit Ending
Music Video (PV)