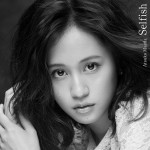 After several singles, Maeda Atsuko (ex AKB48) reveals us her debut album.
It is entitled Selfish. It will be on sale on June 22.
The music video of the song Selfish in short version was unveiled.
The album will be sold in 4 versions under King Records, en editions A, B, C and D. The tracklists are sont different depending on the edition (the track 2 is different, only).
Each edition (except type D) will have a different DVD in surcharge.
The album marks Maeda Atsuko's debut ; it will contain her last singles released since her solo debut : Flower, Kimi wa Boku da, Time Machine Nante Iranai and Seventh Chord.
Tracklist
Selfish
Time Machine Nante Iranai (タイムマシンなんていらない)
Sunday drive
Seventh Chord (セブンスコード)
Tsumetai Honou (冷たい炎)
Contact Lens (コンタクトレンズ)
Kowareta Signal (壊れたシグナル)
I'm free
Natsukashii Hajimete (懐かしい初めて)
Flower
Hoozue to Caffè Macchiato (頬杖とカフェ・マキアート)
Kimi wa Boku da (君は僕だ)
Kaze no Accordion (風のアコーディオン)
Migikata (右肩)
Selfish
Zetsubou no Iriguchi (絶望の入り口) (Type B)
Yasashii Sayonara (やさしいサヨナラ) (Type C)
Wagamamana Bakansu (わがままなバカンス) (Type D)
Time Machine Nante Iranai (タイムマシンなんていらない)
Sunday drive
Seventh Chord (セブンスコード)
Tsumetai Honou (冷たい炎)
Contact Lens (コンタクトレンズ)
Kowareta Signal (壊れたシグナル)
I'm free
Natsukashii Hajimete (懐かしい初めて)
Flower
Hoozue to Caffè Macchiato (頬杖とカフェ・マキアート)
Kimi wa Boku da (君は僕だ)
Kaze no Accordion (風のアコーディオン)
Migikata (右肩)
Selfish (Music Video)
Making of Music Video
Selfish (Music Video)
Maeda Atsuko first live "SEVENTH CHORD" at ZEPP Tokyo (part.1)
Selfish (Music Video)
Maeda Atsuko first live "SEVENTH CHORD" at ZEPP Tokyo (part.2)
Music Video (PV)