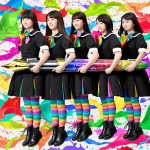 Rock A Japonica's 2nd single Kyouka Shock (教歌Shock) will be on sale on July 6th.
The theme is "study".
The trailer video has been revealed.
In the MV, the 5 members of Rock A Japonica are in a strange classroom. The girls study Japanese language, mathematics, science, social science and English.
The theme of the coupling song of each edition is related to these subjects.
In addition, Rock A Japonica will hold a mini live tour from June 11th to July 10th around Tokyo in order to commemorate the release of this single.
The title song is already available on iTunes.
The lyrics and the music were made by invisible manners who were already in charge of Wee Fight Oh!!!!! from Rock A Japonica's 1st CD World Piece (ワールドピース).
Tracklist
CD

Kyouka Shock (教歌Shock)
Music Video (PV)