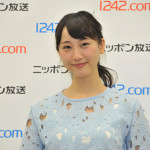 Matsui Rena announced her graduation from SKE48.
Matsui Rena's graduation live and ceremony will be held at the end of August in Nagoya. Handshake events are also scheduled.
She wants to pursue her career as an actress.
Matsui Rena made this announcement during AKB48 special show on All Night Nippon (ANN).
So, she confirmed the rumors published on Nikkan Sports newspaper on June 10.
Matsui Rena joined SKE48 as a 1st generation member in 2009. She has also has a concurrent position with Nogizaka46.
She didn't participate in the 7th AKB48 Senbatsu General Election 2015. Her best ranking was #5 in 2014.