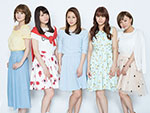 The Possible will change their name to Ciao Bella Cinquetti (チャオ ベッラ チンクエッティ) on July 8.
The Possible are going to celebrate their 10th anniversary in August. As a result, the members of the idol group wanted to show their evolution now that they became adults.
As you might have guessed, Ciao Bella Cinquetti is an Italian name.
The idol group will be credited under this name on its new single Omotesando / Futakotamagawa / Never Never Give Up (表参道 / 二子玉川 / NeverNeverGiveUp) which is going to be released on July 8.