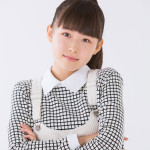 Shimamura Uta's withdrawal from Country Girls and Hello! Project has been announced.
According to Up-Front, Shimamura Uta has to leave Country Girls because of differences of opinion between her family and the company about her activities.
In spite of several discussions, they didn't manage to get an agreement, and her contract has been cancelled..
Shimamura Uta had joined the idol group in November 2014 as a new generation member of Country Musume.
She performed on their 1st single Itooshikutte Gomen ne / Koi Dorobou (愛おしくってごめんね / 恋泥棒) released in March 2015.